FROM INTERNATIONAL BUSINESS TIMES: Larry Flynt: Hustler Magazine Publisher Says The Man Who Shot And Paralyzed Him Shouldn't Be Executed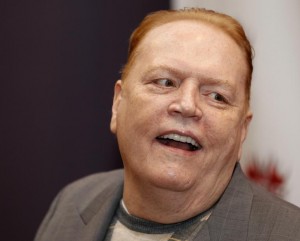 Larry Flynt doesn't want the man who shot and paralyzed him to be executed. REUTERS
Hustler publisher Larry Flynt doesn't want the man who shot and permanently paralyzed him to be executed. Joseph Paul Franklin has been sentenced by the Missouri Supreme Court to death by lethal injection on Nov. 20, and Flynt has writes about it in a guest column for the Hollywood Reporter.
"I have every reason to be overjoyed with this decision, but I am not," Flynt states. "I have had many years in this wheelchair to think about this very topic. As I see it, the sole motivating factor behind the death penalty is vengeance, not justice, and I firmly believe that a government that forbids killing among its citizens should not be in the business of killing people itself."
Flynt was shot by Franklin on March 6, 1978, outside a Georgia courthouse as the Hustler publisher battled obscenity charges related to his magazine. The incident left Flynt permanently paralyzed from the waist down. He's been in a wheelchair ever since.
(For full article, click here.)
Tags: capital punishment, execution, In the News