Monday, October 21st, 2013
The serial murderer shooter says his hatred of blacks and Jews caused his killing spree; one victim shot outside a synagogue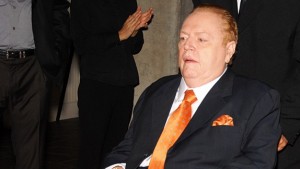 Larry Flynt in 2009. (photo credit: Glenn Francis of
www.PacificProDigital.com, CC-SA)
LOS ANGELES — Porn publisher Larry Flynt says he doesn't want to see the serial killer whose gunshots left him paralyzed 35 years ago put to death for his crimes.
In an essay published Thursday in The Hollywood Reporter, Flynt says that while he would love to take pliers and a pair of wire cutters to torture Joseph Paul Franklin, he does not believe in the death penalty.
Franklin has been in prison since 1980 for a string of shootings that left five people dead and others wounded. He is scheduled to be executed Nov. 20 in Missouri.
---